The flexibility of the PowerShield battery management system means it can be quickly implemented in your facility.
PowerShield systems use a modular approach for battery monitoring, making installation easier and more flexible. Whether for a data center or critical infrastructure such as emergency services, transportation and telecommunications, PowerShield has a range of options that can be tailored to meet your specific requirements. VRLA or VLA (wet cells), lead acid or Ni-Cd – PowerShield has a solution that meets your requirements to get the best out of your battery assets.
The system is made up of a configuration of the following components:
Link battery management software
Controller
Supporting components (Hub and mSensors)
Components of PowerShield8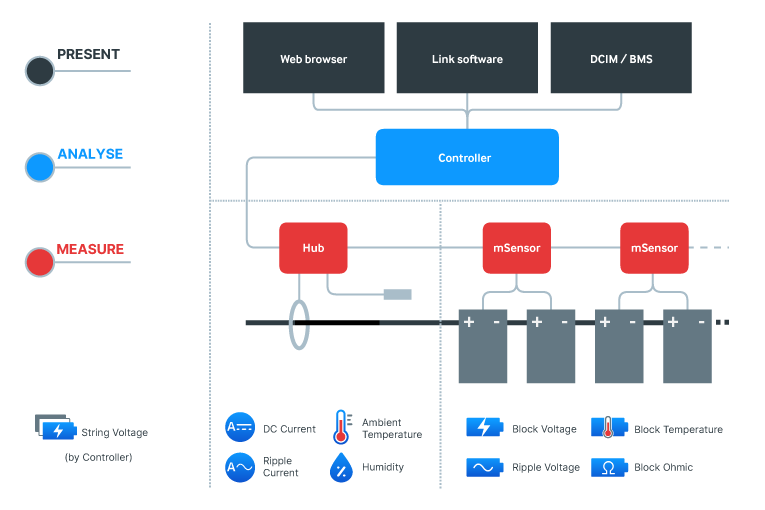 ---
The PowerShield battery management system
Designed for use with batteries in racks or cabinets, PowerShield sensors come with pre-terminated harnesses which makes for easy hardware installation – simply 'plug and play.'
PowerShield battery management system offers:
Visibility to individual string and individual monoblock level
Flexibility to suit battery model and application
Visibility of both real-time and historic battery data
Thermal runaway detection
Automated alarm management
SNMP and Modbus integration with DCIM, facility management and building management systems
Rapid, automated data sampling and logging
UPS intermittent charging compatibility
User-defined alarm limits
Designed to allow IEEE/IEC best practice
PowerShield systems are configured based on the measurement parameters you need and the level of visibility you require for individual strings and individual monoblocks. All parameters are measured against user-defined limits specific to battery state (float, idle, charge and discharge).