A modular approach – from accurate battery measurement to actionable insights
PowerShield battery management systems use a modular approach to combine accuracy and safety with ease of installation.
With options for VRLA, VLA and Ni-Cd cells, an enterprise level software package and a range of communication choices, PowerShield can provide solutions tailored to exactly match your batteries.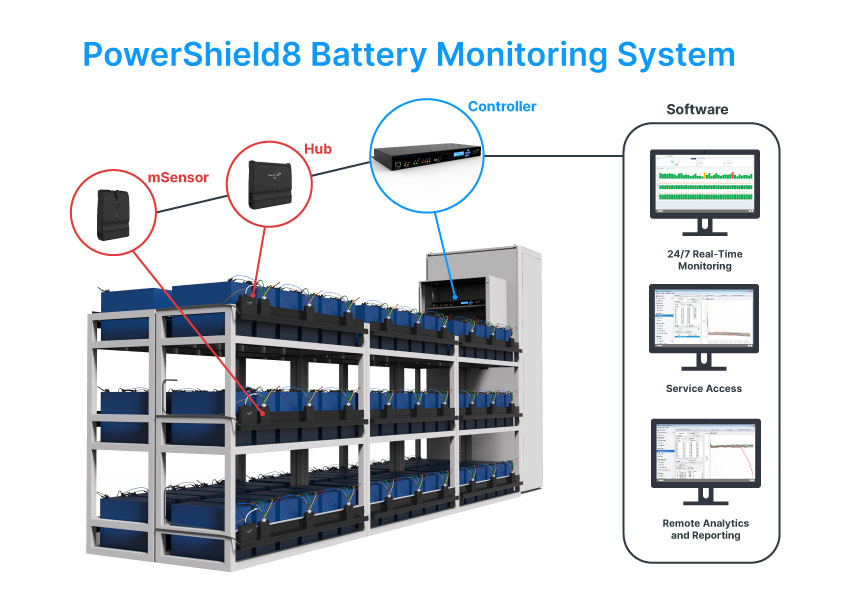 At the batteries
PowerShield sensors feature advanced circuits that drive fast data sampling and powerful measurement algorithms.
In the battery room
The Controller monitors, collects, interprets and stores data from the battery and string-based sensors. The Controller is a stand-alone unit that functions without the need for PC control and is suited to both online and offline applications.
PowerShield8 meets the needs of a wide range of industries requiring continuous power. From data centers, through to critical infrastructure such as transportation, water services, healthcare and emergency services, etc.
PowerShield customers now have the choice of 2 Controllers:
The existing Controller, now called the LX, which has a capacity of up to 512 batteries.

The new Controller MX, which has a capacity of up to 200 batteries for smaller battery installations.
Both Controllers have the same battery management functionality. The Controller MX is a cost-effective option for smaller battery installations.
Getting the data out
Whether running as a stand-alone system or integrating with existing facility management systems, PowerShield offers a range of simple solutions to help you stay informed.
Link battery management software brings your batteries to your desktop via the LAN. Email alerts can be sent direct to your service team.
A range of communication options mean that solutions can be tailored to meet your monitoring and reporting needs.
Turning data into information
Link software gives the user a powerful, graphical interface to the batteries, displaying and storing data and alarms across the lifetime of the batteries.
An enterprise level, Windows based package, Link software enables multiple users to access the same data simultaneously.
Link software gives your staff the reporting tools to analyse trends, identify potential battery failures and help you to identify and manage battery end-of-life.
If you'd prefer an independent or external view on your battery data – or simply a second opinion – the PowerShield Reporting Service is a cost-effective way to receive expert analysis and interpretation of your battery data.